Mostly because I don't want to forget, and partially because I appreciate the scoop on good gifts for kids, I'm going to review the best of the Bernheisel Christmas, 2012. Here goes:
Best Christmas Breakfast Strata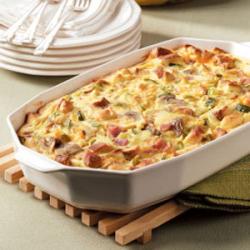 I found it on Allrecipes about a year ago. This is the second time I've made it, but I don't want to forget that it is my favorite. It's full of ham, zucchini, onions, mushrooms, bread, and lots and lots of cheese. I intend to be more dedicated to Paleo in 2013, but I will come back to this next Christmas, bread and all.
Here
is the link to the recipe.
Thank you, Arlene Butler, wherever you are.
Best Squash Casserole
If you said it didn't look all that great, I would agree with you, but that's because the picture shows it made with french fried onions. Yuck. But I left out those atrocities to foodkind and it was good enough to make me weep. It requires boiling the squash and onions before putting it all together, but that step wasn't as time-consuming as it might seem. Again, with the cheese. Lots and lots of cheese. We had this along with a roasted leg of lamb.
Here's
the link. I I found it quickly on Pinterest, but don't want to lose it.
Best Movie We Watched Over the Holidays
I heard an interview with Brian Selznick (who wrote the book on which the movie is based) and was intrigued. And it has clocks and gears and robots in it, so there was no doubt it was going to be a grand-slam in our house. I'll admit that I slept through the first half--I was in desperate need of a nap--but I think I managed to see the best stuff. The kids loved it. It's PG.
Best Nerd Gift
It's the Hydrodynamic Deluxe Set. It's what you give the kid who's already exhausted the Chaos Tower from last Christmas and needs to learn about fluid dynamics. I was a little concerned about mess, but one of the things that I love about this is that the whole thing comes in its own carrying case. Several of the best building sets we have (Chaos Tower, Quadrilla Marble Run) come in a cardboard box that disintegrates after about a week. But this just packs up nicely when the bottom part of the case isn't used for holding the water. It didn't take too long to master, and it seems to be fairly easy to take apart and reassemble (the Chaos Tower last year took a long time). It also lends itself to allowing the user to create configurations that aren't listed in the manual.
Best Gift for a Pleasant Surprise
I make my own laudryry detergent, household cleaners, and deodorant, so when my dad said that he had gotten Clare a perfume-making set, I had my doubts. But I'm surprised at how much I love it. First of all, all the scents are all natural. Second, Clare had no problem jumping right in and making her own scents. She's made a bottle for everyone in the house, and they actually smell good! Once she mastered the eyedropper (one drop equals a drop, not a squeeze) she had it made.
Best Gift for Anyone
So, my mom got them for my kids, but I do them after they've gone to bed.
Best Places to Shop for Christmas Gifts
Daily deals for moms and kids. I've been buying gifts all year long. Some I even forgot about until I started looking for the presents that I'd hidden. By the time Thanksgiving rolled around, most of my shopping was done!
MindWare has become our go-to for shopping for things for the kids.
Best Pants
So, for no reason that I know of, a glorious new catalog arrived in my mailbox this Christmas. Sahalie. Have you heard of it? I hadn't, but two pages in and I was in love. They have this stuff called Butterfleece. It makes me want to curl up with myself and take a nap. I need a pillowcase made out of this stuff. Anyway, I treated myself to some Butterfleece Snuggle Pants. I probably won't ever take them off. And they come in TALL!!!!!